As a city with an established and diverse business community, Sugar Land knows that achieving results takes a bold and thoughtful approach, or as we call it down here in the sweetest city in Texas, the "Sugar Land Way." We take the time to listen to and understand the needs of our citizens and businesses, desiring to push our city and your investment forward through the creation of successful public/private partnerships that benefit the community and make Sugar Land a great place for our residents and businesses to call home.
Key Development Areas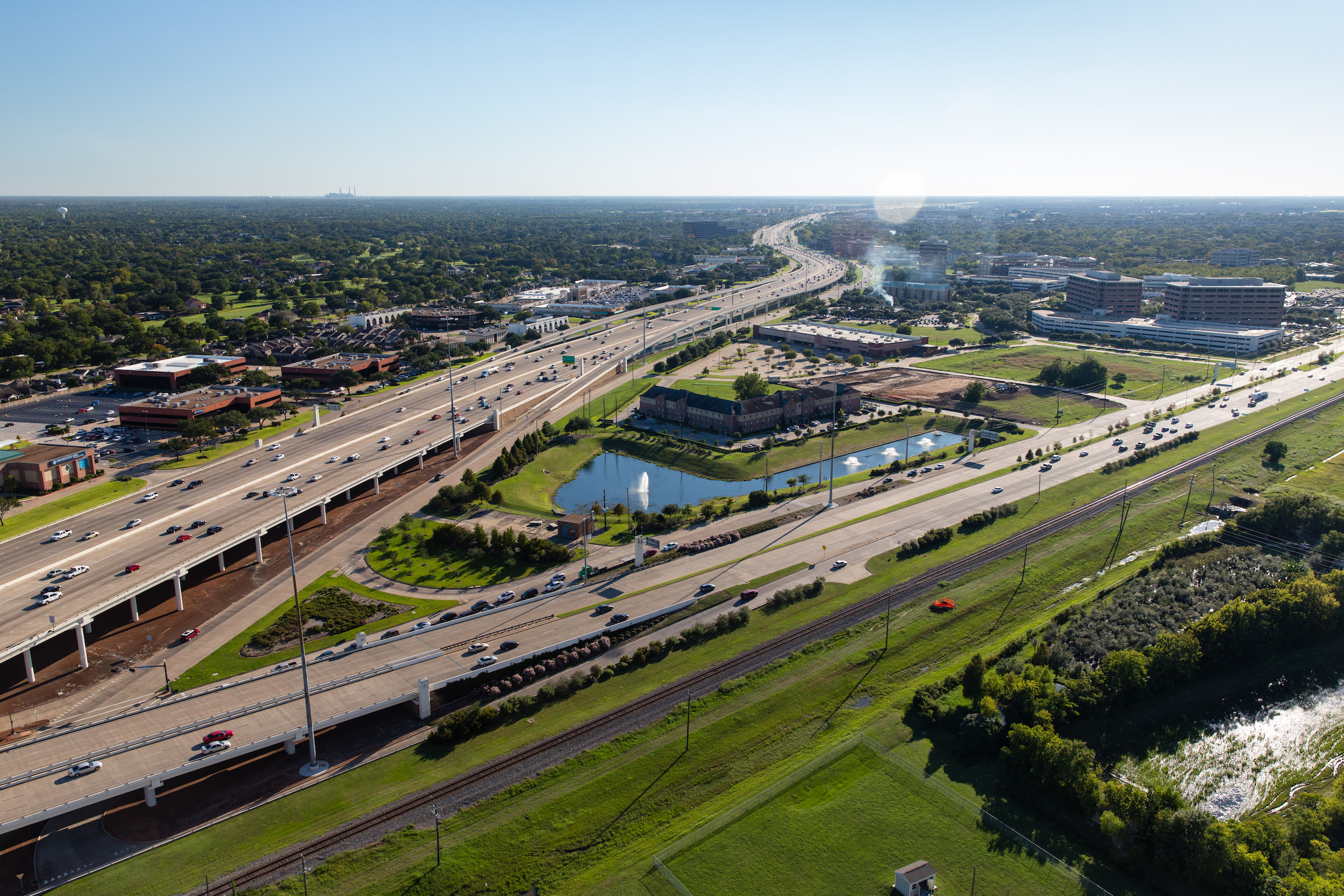 A growing community with corporate headquarters for several Fortune 500 and top companies; in Sugar Land we still have room for you. Whether you're looking for space for your corporate HQ, additional or new office space for your company, light industrial space or retail, dining and entertainment space, or shared office space, it's available in Sugar Land.  
Sugar Land has several unique development areas that suit a wide variety of business needs and appropriately position businesses to maximize their potential. 
Big
7.9 million square feet of office space
Bigger
8 million square feet of retail
Biggest
8.9 million square feet of industrial space 
Major Commercial Developments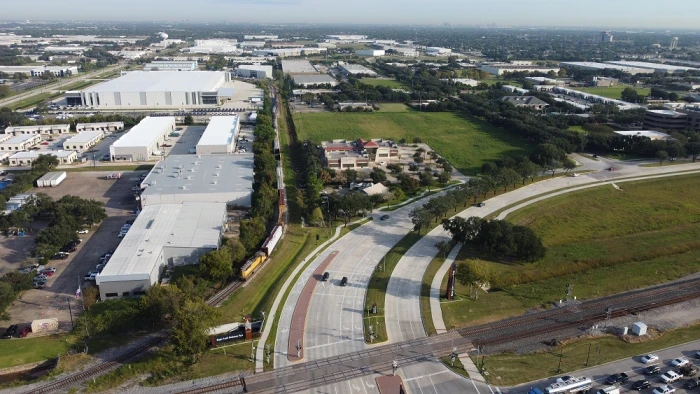 The 1,000 Acre Sugar Land Business Park is ideal for a wide variety of office, R&D, high tech, manufacturing and distribution needs. It features excellent access to U.S. 59 and U.S. 90A, low tax rates, M-1 zoning and deed restrictions to maintain high standards for property values, and rail service by both Union Pacific and BNSF. The park includes approximately 8.2 million square feet of industrial, flex and office space. Some of the major tenants are Accredo Packaging, Bluebonnet Nutrition, Tramontina, HCSS, Crown Beverage, Trafficware a CUBIC Company, Boise Cascade, Applied Optoelectronics, Yokogawa, AmerisourceBergen, Quva, Bechtel Equipment Operations and Baker Hughes.
Imperial Redevelopment District
The City of Sugar Land, Texas General Land Office, Johnson Development and Cherokee Investments have partnered to develop 686 acres of property on the site of the former Imperial Sugar Refinery and adjoining undeveloped land.  This area is the location of the Sugar Land Skeeters independent league baseball at Constellation Field. The district is a commerce park, mixed-use residential/retail, commercial retail, and traditional neighborhood development.
Located along the U.S. Highway 59 corridor and University Boulevard, Telfair includes 2,018 acres for a wide variety of uses including commercial office, retail space, mixed use, education, civic/community buildings, open space and neighborhood parks. The development centers on a 300-acre mixed-use development anchored by the University of Houston at Sugar Land and other future public and private uses. Telfair is also home to the Houston Museum of Natural Science at Sugar Land and the world-class Smart Financial Center performing arts/concert venue. 
In the geographic center of the city, this award winning development is a public-private project between the City of Sugar Land and Planned Community Developers.  Sugar Land Town Square is a downtown urban environment anchored by Minute Maid's corporate headquarters and several other Class A office users.  The 32-acre mixed-use development features 1.4 million square feet of mixed-uses including the 300-room full-service Marriott Hotel and Conference Center, the 82,000 square-foot Sugar Land City Hall, 167 mid-rise residential condos, 566,000 square feet of office space, 252,000 square feet of Main Street retail and restaurants and a 1.4-acre pedestrian plaza. We call it the beating heart of the city!
Sugar Land Regional Airport
The Sugar Land Regional Airport is primarily a corporate aviation facility that maintains a balance with the community's general aviation needs. It is the fourth largest airport in the greater Houston area. The airport is currently in the process of an Airport Master Plan Update that will serve Sugar Land well into the next 20 years. The airport itself features a 20,000 square foot terminal and an 8,000 foot runway that is currently used by more than 100 Fortune 500 companies. There is direct access from U.S. 90 and State Route 6.
Lake Pointe Town Center is a 190-acre, urban-style village located in the heart of an emerging town center at the intersection of Highway 6 and U.S. 59. It is anchored by the Fluor Corporation and Houston's first Whole Foods MarketTM. Lake Pointe is planned for more than 1 million square feet of office and medical space, 170,000 square feet of retail, 140 town homes and brownstones, 150 patio homes and 100 mid-rise condos. There is significant water frontage including the 37-acre Brooks Lake and 1.5 miles of frontage on Oyster Creek. There is already a significant medical presence in this development as it is home to St. Luke's Sugar Land Hospital, the M.D. Anderson Cancer Center, and Methodist Orthopedic Specialists of Texas. There is also a beautiful Hyatt Place Hotel and conference center located right on the banks of Brooks Lake with a direct connection via a pedestrian only bridge, to the largest single retail development in Lake Pointe, Lake Pointe Town Center home of Whole Foods. This pedestrian-friendly development provides an urbanized environment for people to live, work and play.
If you need assistance in selecting a site, we can help with finding the right property, to zoning regulations, building standards, floodplain zones and much more. Contact us today at ecodev@sugarlandtx.gov.
Sugar Land Town Square
Shop, Dine, Play, Stay. That sums up the experience you can have at Sugar Land's Town Square. Well, there are three more things: Fun,Fun, Fun!
In 2003 Planned Community Developers and the City of Sugar Land came together for one of the most bold and successful public/private partnerships in America. From that partnership, Town Square was born. It is the beating heart of Sugar Land, where Sugar Land residents and visitors work, live, shop and gather. The Sugar Land Town Center is anchored by Sugar Land City Hall and surrounded by a multitude of offices, a full-service hotel with the largest conference center in Sugar Land, delicious dining options, fantastic storefronts and stylish condos.
Town Square is 32-acres that make up the geographic center of the city. The development has won several awards for design and functionality. There are 1.4 million square feet of mixed-uses including 560,820 square feet of offices, City Hall, 167 mid-rise residential condos, 242,924 square feet of Main Street retail and restaurants and a 1.4-acre pedestrian plaza.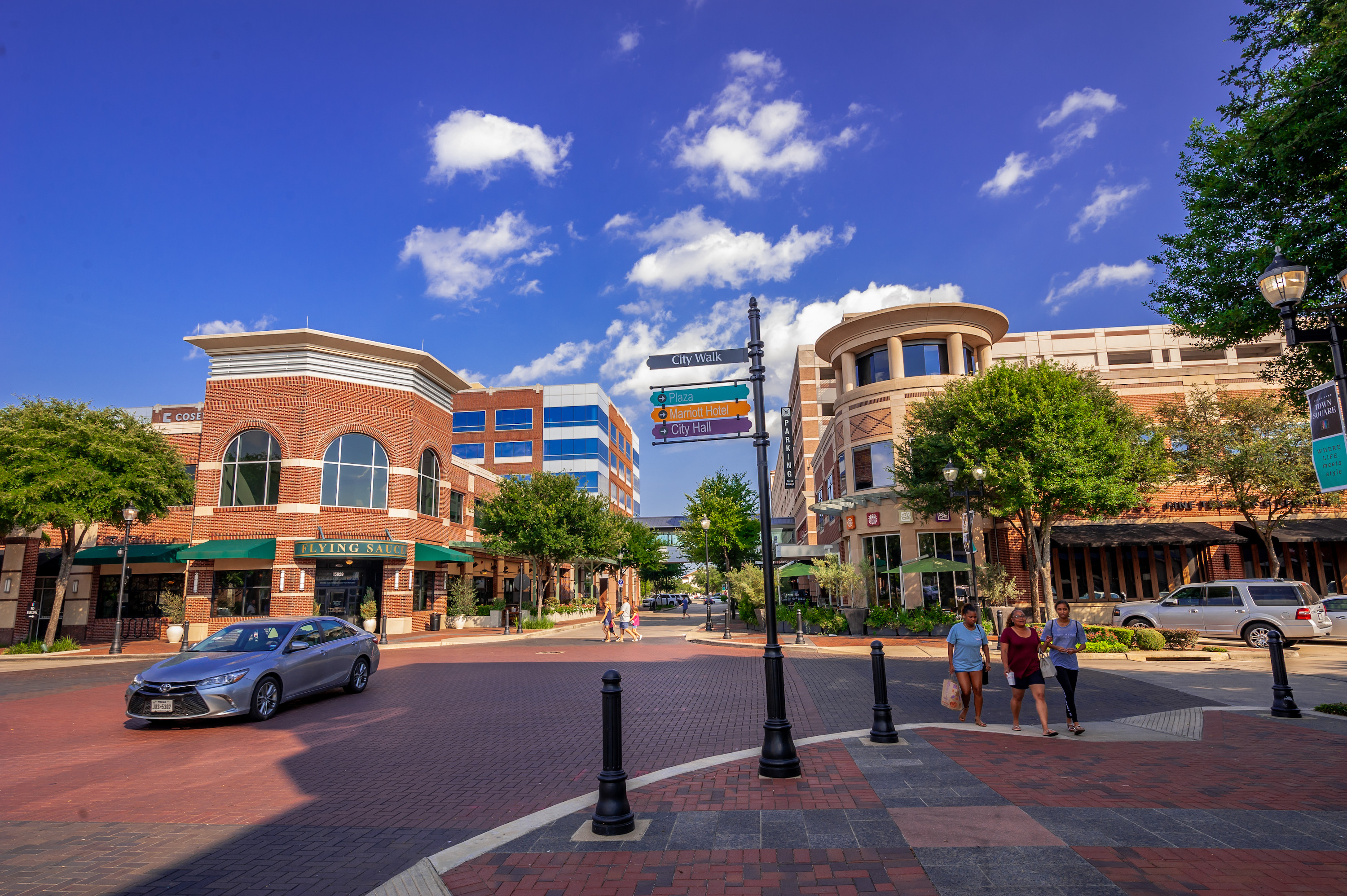 560,820
Town Square Class A Office SF
64,000+
Total Available SF
300
Marriott Hotel Guest Rooms
24,000 SF
Meeting & Conference Space
On any given day or evening you may find a concert in Town Square, a festival, a holiday celebration, a free movie, or people just hanging out. All that fun makes people hungry, and whether you're a visitor or you work in one of the Town Square office buildings, there are 28 restaurants to choose from around the square to satisfy your taste-buds. Whether you need a phone, glasses, furniture, clothes, cigars or even want to learn to dance like Fred Astaire, you'll find all that around Town Square and there's still some retail space available for the next rise star chef's new restaurant or innovative entrepreneur!
The University of Houston at Sugar Land calls it "The Best Place to Hang Out" and social media sites like Eventseeker call it a "must visit." That's why visitors, who are motivated to spend money, make Town Square a destination.
Town Square functions as a fun destination for residents and visitors but is also its own economic engine powering business development and growth, and providing a venue that is truly unique among cities in Texas and the U.S.A.