Where is Sugar Land, TX? Next Door to the 4th Largest City in the U.S. - Houston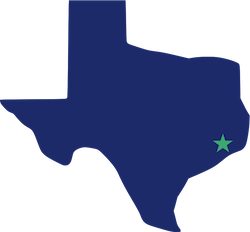 Sugar Land's close proximity to the 4th largest city in the United States makes it a prime location for the manufacture and distribution of goods. The major freeway and transportation line Interstate 69/U.S. Highway 59 runs diagonally from Sugar Land Texas to Houston Texas, with eight main lanes east of State Highway 6, connecting with multiple major interstates and highways. This network of major roadway allows businesses to transport goods quickly and efficiently to the area's airports, ports and rail lines.
Airports
Moving a record 500,000 tons of cargo in 2018, George Bush Intercontinental Airport continues to expand its growth in cargo operations. The airport is committed to improving connectivity and expanding its available options to diverse regions.*
*Information from Transport Topics
Several air-freight lines are available at Houston Hobby Airport: SouthWest and Delta Airlines - air cargo and American Airlines - priority parcel, live animals, and medical shipments.
The Sugar Land Regional Airport is a vital asset for local business travel, serving as a reliever airport to Intercontinental and Hobby. It is one of eight airports in Texas to be ranked by the FAA as a National General Aviation Airport.
Deepwater Ports
The number one U.S. port in foreign waterborne tonnage and the largest Gulf Coast container port, handling 69% of U.S. Gulf Coast container traffic, the Port of Houston's 52-mile long public and private terminals connect Sugar Land businesses to the world.
Accessible via State Highway 39 and 288, the Port of Freeport is highly experienced in handling many types of cargo, including high and heavy or long and wide. The port also leases short-term and long-term storage space.
According to Sugar Land subdivisions map, the Port of Galveston, located on the eastern end of Galveston Island, is the oldest port west of New Orleans and encompasses over 850 acres of port facilities to successfully distribute goods across the globe
Railways
Union Pacific Rail Line
Connecting Sugar Land to Houston and San Antonio, the Union Pacific Railroad serves 32 trains a day, shipping raw materials, component parts, and finished products. Fueled by economic growth, the rail line underwent expansions in 2014 and 2015 and is projected to double in capacity by 2035. Union Pacific directly serves the Sugar Land Business Park.
Burlington Northern Santa Fe
Serving 12 trains daily, the Burlington Northern Santa Fe line parallels FM 2759 and FM 762 along the city's southern boundary. The BNSF is one of the leading freight transportation companies in North America.