Workforce
Sugar Land and the Greater Houston Workforce
Sugar Land and Houston, Texas, are home to a talented labor pool supported by numerous workforce development initiatives and resources.
Sugar Land and Houston, Texas, are home to a talented labor pool supported by numerous workforce development initiatives and resources. In recent years the greater Houston workforce has seen growth in medical, technology, manufacturing, engineering, financial, and other sectors.   
Sugar Land's access to a highly skilled workforce provides the city with a strong competitive advantage. The local labor market is diverse, with skill sets ranging from healthcare to small businesses. The Houston area is particularly known for its thriving healthcare industry, which includes many providers and employers. The region also promotes equal opportunity employers and supports Texan job seekers with disabilities through vocational rehabilitation services and auxiliary aids.
Nearly 60% of residents aged 25 and older hold a bachelor's degree or higher and local employers also have access to more than a half million college graduates within a 30-minute drive of Sugar Land.
The city's labor force is especially rich in Architecture & Engineering Healthcare, Management, and Life, Physical & Social Science talent. Sugar Land also has a proven track record in attracting outside talent. Between 2015 and mid-2020, employment growth in Sugar Land rose by more than 14%. On a percentage basis, Sugar Land's employment growth rate was twice the national average and more than three times the regional average.  
Sugar Land Workforce Demographics
Much of the workforce in Sugar Land has specialized skills in addition to college and professional degrees. This translates into an average salary of $57,094 per year, which is above the national average.  
63.5%
Hold College and Graduate Degrees
$57,094
Average Annual Salary
1.9%
10-Year Projected Job Growth
Educational Attainment
Expected growth rates for occupations vary based on required education and training. All employment in the City of Sugar Land, TX is projected to grow 1.9% annually over the next ten years.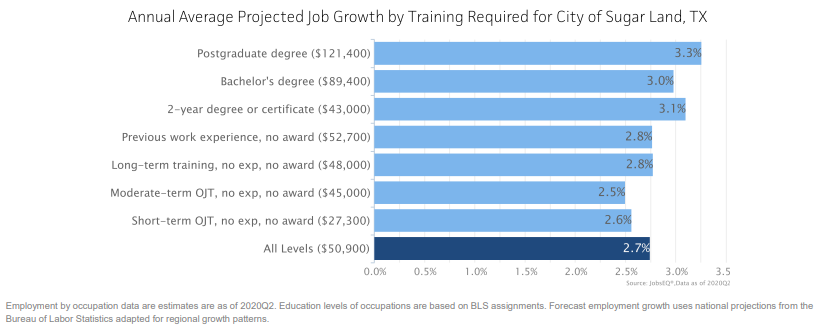 Employment Forecast by Industry
We have several stand-out sectors when it comes to our workforce and job industries, including a rapid growth rate in the healthcare field. See below for a list of our top nine largest industry clusters.
*Net new jobs from 2009-2019 (Pre-Pandemic)
2,060
Office & Administrative Support
1,061
Professional Services
Source: EMSI, US Census Bureau
Interested in Sugar Land's Workforce?
Businesses considering moving to the Houston area will find the strong local workforce solutions they are looking for in Sugar Land. Sugar Land and Houston's job growth and top talent are supported by a range of initiatives and job search resources, like our partnership with local community organizations, the Texas Workforce Commission, and more. With our diverse skill sets, job market and resources, Sugar Land is an ideal location for businesses looking to expand their operations.
Ready to Start a Project?